Alpharetta Kids Martial Arts Classes
SIGN UP NOW FOR A 30 DAY FREE TRIAL!
Beginner Kids Martial Arts Classes Enrolling In May
At Crabapple Martial Arts Academy, we believe in whole body wellness. Our goal is to provide self-defense training and physical conditioning in a focused and disciplined environment. Our Kids Martial Arts program promotes the time honored principles of respect, discipline, perseverance, self control, and integrity. Kids Martial Arts in Alpharetta, results in a healthier body, a calmer spirit and a more focused mind, which provides our children with the proper tools to succeed as teenagers and adults.
Parents are raving about how much their children have gained fro our Kids Martial Arts program. Our one of a kind character building programs helps children become more confident, focused, raise their self-esteem, and improve grades. Kids Martial Arts in Alpharetta is sure to give your kids a great workout while stressing awareness, the ability to focus on the task at hand and respect for themselves and others.
Our children's program is divided by age and experience level, giving each child the individual attention they deserve and our schedule allows for unlimited class attendance.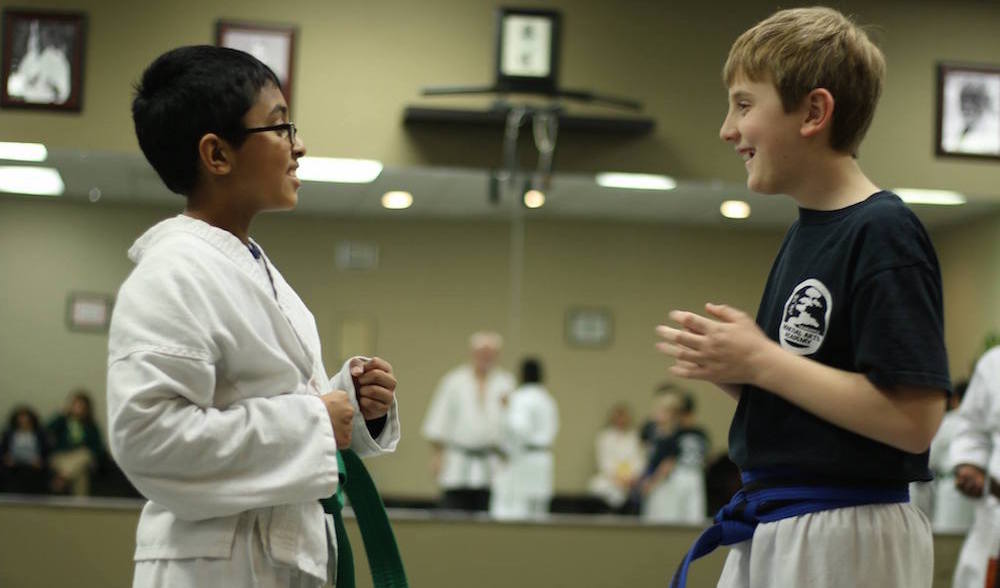 Give Your Child the Opportunity to Stand Out from the Crowd
We have separate classes for Dragons (4-6 years old) and Tigers (7-12 years old). Boys and girls train together in a safe & encouraging atmosphere. Classes are 45 minutes long, and we offer Basic to Advanced martial arts classes, games and friendship. Every class begins with stretching and warm-ups, followed by the day's lesson and a game incorporating the day's lessons.
Our highly trained and skilled instructors are accustomed to working with kids of all ages, and will promote an exciting atmosphere which makes learning fun yet challenging. Your children do not have to have any special skills to excel in our program; the only thing they must bring is a sense of fun and a desire to learn the exciting moves of martial arts!

In addition to the physical skills taught at Crabapple Martial Arts Academy, the curriculum is built upon principles which are passed on to participants in the programs. These principles which are truly character traits are instilled from a student's first day.
Martial Arts begins and ends with courtesy
Actions have consequences
We lead by example
We are responsible
There is NO excuse for bad manners
Sign Your Child Up Today!
All you have to do is fill out the short form on the right side of this page, and we will take care of the rest. We look forward to hearing from you, and can't wait to start working with your child.
Kids Martial Arts